The Best Way to enjoy Nagasaki is a Short Trip with a Nagasaki local!
Welcome to Nagasaki:

Located in the western most point of Japan and surrounded by beautiful mountains and nature, the port of Nagasaki has been an ideal natural harbor for international trade since the 1570's. Since then, through centuries of international exchange, Nagasaki has acquired a unique heritage within Japan, and boasts two sets of UNESCO World Heritage Sites.

Please go ahead and take a look at our Nagasaki Walks website to explore the rich history of Nagasaki, and the tours and services we have to offer.

Nagasaki Walks tours will help you take in Nagasaki's rich history and culture by chatting with our local guides and strolling around our streets and points of interest.
History of Nagasaki
Opening and Christianity (1570 - 1639)

Nagasaki is located in western end of Japan. It was Japan's gateway to the world, trading with Portugal and China.
In 1570, the Portuguese reached Nagasaki, and its harbor was opened to Western trade. Nagasaki was ruled by daimyo Omura Sumitada a Christian, who gave the territory to the Jestuits. Christian culture blossomed in Nagasaki.
Meanwhile, culture from China also flowed into Nagasaki. Chinese temples and the Spectacles Bridge were built.
Japan's only open port during the period of isolation (1639 - 1854)

In the 17th century, Japan was under a national seclusion policy, stopping entry and exit from the country, exchanges with foreign countries, and banning Christianity. Dejima and the Chinese settlement in Nagasaki were established as the place for foreign exchange. These exchanges were limited to the Netherlands and China. Nagasaki thus became the only window in Japan where advanced technology and culture from the West and China could be attained. This policy prospered for over 200 years.
During this period, Christianity was prohibited, and believers of Christianity received severe persecution. Some went into hiding and became hidden Christians in order to continue their faith.
Re-opening and foreign settlements (1854 - 1899)

In the mid-19th century pressure from the US and Russia forced Japan to open five ports around the country, including Nagasaki. With its foundation of international exchange, Nagasaki flourished in the Meiji Restoration, which saw the end of the Samurai era and changed society greatly.
In 1858, after 200 years under at policy of national seclusion Japan was left in a non-industrialized feudal society. In order to keep up with the industrial revolution that happened in Britain in the 18th century, Japan rapidly transformed the country to create a modern state. Nagasaki had a long experience incorporating advanced western technologies at Dejima, and foreign settlers were able to contribute greatly to modernization of Japan, namely British born Thomas Glover.
These leaps to modernization can be seen at many Industrial Heritage Sites around Nagasaki (Industrial Revolution Heritage of Meiji Japan).
Foreign powers demanded trade with Japan in 1854; and by 1859 treaties were signed and foreign traders were settling in Nagasaki. Japan experienced rapid advancement in industry thanks to influential businessmen in Nagasaki, such as Thomas Glover. In 1870 Mitsubishi was founded and coal mining and ship-building flourished. In 1865 Oura Cathedral was built. Many Christians came out of hiding after over 200 years of secrecy.
Modernization and the atomic bomb (1899 -

Since then, Nagasaki has been on the road of modernization, and has continued to develop mainly in the shipbuilding, fishery industry, and tourism industries. However, the atomic bomb was dropped in 1945, and Nagasaki was devastated in a flash.
It became an unimaginable scene of terror, but the large area that was destroyed has been restored and rebuilt to remember the victims of war and campaign for peace and the abolition of nuclear weapons.
About 70 years have passed since then, and Nagasaki has been resurrected like a phoenix, now as a city of peace, international culture and as a city with two world heritage sites.
Meanwhile, Nagasaki has a diverse array of foods which reflect its international history, including; Castella and other sweets, noodle dishes such as Champon, fresh fish dishes, Shippoku Cuisine which is mix of Japanese, Chinese and Western dishes, and the loquat fruit.
About Nagasaki Walks
Nagasaki Walks is a volunteer guide organization that provides hospitality and English guidance for tourists. The tour guides are Nagasaki locals who want to make Nagasaki more accessible to English speaking tourists. Not all of them are qualified tour guides, but they all are eager to make your trip to Nagasaki memorable, hassle free and informative. (We can accommodate groups of up to 10 people at a time.)
Our guides are grouped into three categories according to their English ability and knowledge of the sites. Please choose a guide that suits your needs.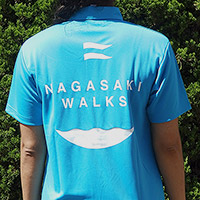 News